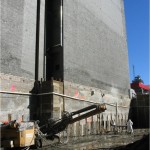 555 Mission Street, San Francisco,  CA
The 555 Mission project included soil-cement mix "cut-off" shoring and slant-drill underpinning with jet-grout cut-off.   The excavation depth was approximately 30-feet.  Our design constraints included the presence of Bay Mud soil, high groundwater, limited tieback length at narrow streets, and movement-sensitive adjacent buildings.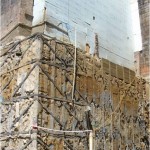 One Hawthorne Street, San Francisco, CA
Shoring and underpinning at One Hawthorne was designed for a 45-foot deep excavation. Underpinning consisted of slant-drilled piles and jet-grouting for groundwater cut-off under an existing 13-story concrete building and a 3-story unreinforced brick building. Shoring at the streets included soil-cement mix soldier beams with tiebacks for groundwater cut-off.  Our design constraints included a relatively small site and close proximity to adjacent buildings.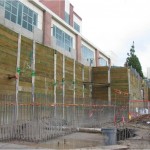 El Camino Hospital,  Mountain View, CA 
This underpinning project utilized slant-drilled steel underpinning and soldier pile shoring with tiebacks.  This project also included preconstruction design and required OSHPD submittal, oversight and approval.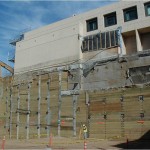 Lucas Center Expansion, Stanford University,  CA
At Lucas Center, we designed underpinning and temporary excavation shoring for a 40-foot deep excavation immediately adjacent to an existing 2 to 4 story medical research facility.  The existing building remained in service during construction and contained movement-sensitive nuclear magnetic resonance machines and 4-story glass curtain walls adjacent to the excavation.  Additional constraints we were faced with included heavy construction/crane surcharges and existing utilities along the street adjacent to the excavation.