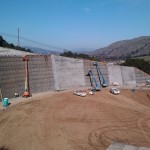 Sunol Water Treatment Plant – Soil Nail Wall, Sunol, CA
This project consists of the design of a 50-foot high permanent soil nail wall for new reservoir tanks at the Sunol Valley Water Treatment Plant in Sunol, for the City of San Francisco, Public Utilities Commission.
Kaiser Permanente Vacaville – Loading Dock, Vacaville, CA
This project at Kaiser Permanente Vacaville included the design of Cantilever and Tieback Soldier Pile shoring and permanent walls up to 20-feet high.  The shoring and permanent wall design underwent State of California Office of Statewide Health Planning Department (OSHPD) submittal and review.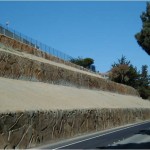 Junipero Serra Boulevard, Slope Stabilization Retaining Walls,  South San Francisco,  CA
This project included the design of tieback and shotcrete retaining walls for the reconstuction of the 50-foot high slope along Junipero Serra Blvd.  Please note that this project was performed by Mr. Mathison while with a previous firm.