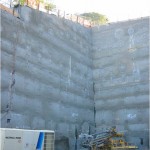 Molecular Foundry, Ernest Orlando Lawrence Berkeley National Laboratory, Berkeley, CA
This project included the design of tiebacks, soldier beams and shotcrete support for a 68-foot deep excavation on a steep hillside between existing buildings.  Our consultaion services included design development, construction documents, bidding support, and construction administration services.  This Project was awarded on a competitive bid basis under the project budget, despite complications associated with existing landslides at the site.  Tiebacks and soldier beams were utilized in the permanent below grade building wall in order to reduce overall project costs.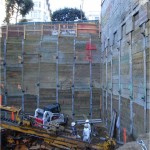 Symphony Towers, 724 Van Ness Avenue (CA Hwy 101), San Francisco, CA
This project included the use of Soldier Pile and Tieback temporary shoring varying up to 35-feet deep in Dune Sand, Slant-drill Underpinning of 5 Buildings, and Local Permeation Grouting.  The project was also under the jurisdiction of Caltrans (California Department of Transportation), which provided construction review.