California Memorial Stadium, University of California, Berkeley, CA
As part of the recent extensive stadium renovation and seismic retrofit project, Tuan and Robinson, Structural Engineers was retained by the Contractor to design and engineer the temporary support of the historic west wall of the stadium during the construction.  The stadium wall was shored with structrual steel framework to provide both out-of-plane support and seismic resistance.  Underpinning piers were designed to support the historic perimeter wall during excavation for construction of the new foundation below.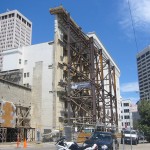 San Francisco Conservatory of Music, Underpinning and Temporary Facade Wall Support, San Francisco, CA
Our work included support of a 100+ foot high historic building facade wall and the historic interior ballroom, including underpinning for additional basement excavation and a new mat foundation under the wall.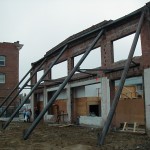 Folsom Dore Housing, 1346 Folsom Street – Temporary Facade Support, San Francisco, CA
This project included the design of underpinning and temporary support for the existing 2-story unreinforced masonry building facade during excavation for new below- grade parking and low-income housing.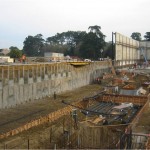 California Academy of Sciences, Golden Gate Park, San Francisco, CA
Building shoring for this project consisted of lateral and vertical support of the historic exterior wall of the African Hall.  Our shoring design was optimized to avoid new building construction and to limit penetrations through the granite wall for shoring connections to a maximum of 1 inch diameter holes.